As regular readers will know, I've been travelling a lot recently. Italy, Stavanger, Oslo, Molde, and a road trip all since July. It's been hotel room overload, so on my trip to Tromsø last week, I really fancied something different.
Viking Apartments
Grønnegata 18-20, Tromsø
I checked-in at the hotel which is a short walk from the harbour, and the receptionist walked me around the corner to the lovely old wooden building which contains the apartments. Mine was a gorgeous 3-bedroom apartment on the top floor.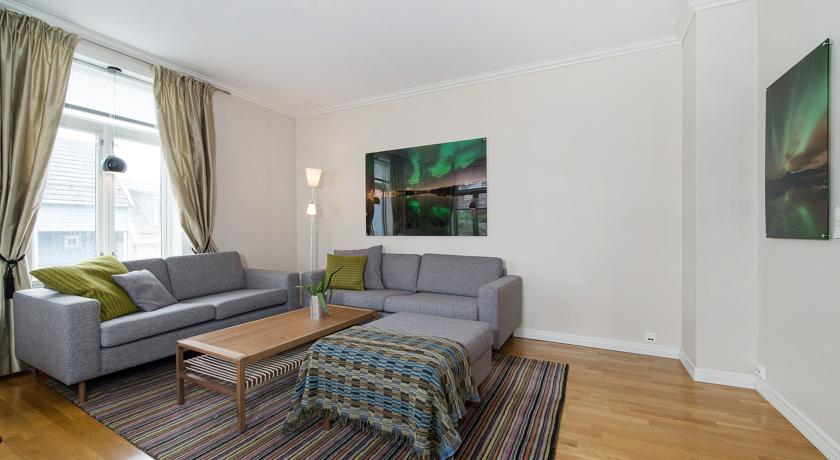 Living area
Modern, light, comfortable, and fully-furnished, the apartment was big enough for six people to share comfortably. There's also a range of other apartments suitable for couples all the way up to a 4-bedroom monster. There was a large TV with a range of Norwegian, Swedish, and English-language channels and a DVD player, along with sofas and easy chairs for six. And free wi-fi, of course.
Kitchen
The apartment came with a fully-equiped kitchen, featuring a giant fridge-freezer, oven, hob, kettle, coffee maker and dishwasher. This is where staying in an apartment really adds value!
Although the hotel offers breakfast with its rooms, breakfast isn't included when you stay in one of the apartments. However, this really isn't a problem thanks to the kitchen and large Eurospar supermarket close by. I bought and ate fairly basic food, but saved several hundred kroner by not eating out. If there are six of you sharing an apartment, you could easily whip up some quick meals and save an absolute fortune.
Bathroom
The bathroom had a real wow factor – it was pretty much the same size as my entire flat back in Trondheim! And a spa bath with a view, well that's always a bonus.
Bedrooms
All three bedrooms were small but with plenty of storage. I tried two of the bedrooms during my stay and both were comfortable. I didn't sleep particularly well on my first night but that was due to the ridiculous amount of coffee I drank on my northern lights chase, and nothing to do with the apartment!
Perfect for northern lights hunters
If you're in Tromsø with friends or family to chase the northern lights, these apartments are ideal. Not only are they centrally located, spacious and comfortable, they are superb value. A 3-bedroom apartment costs from just 1,990kr a night. That's the same price for up to 6 adults as many hotels charge for a standard double room. Note, if there's just one or two of you, it's also worth checking out the Viking Hotel.
Check rates and availability at the Viking Apartments with Booking.com
—
(Disclaimer: my stay at the apartment was complimentary, however all our reviews on Life in Norway are free of any influence from the hotel itself)