First Hotel Atlantica
Rasmus Rønnebergsgate 4, Ålesund
Last week I spent a couple of days in Ålesund, somewhere I've wanted to visit ever since I arrived in Norway over two years ago. I was in Ålesund for InnoTown, and I had the pleasure of staying in the First Hotel Atlantica.
The location is perfect. Just a few steps from the bus station and right in the middle of Ålesund, the hotel overlooks the stretch of water that splits the town centre in two. The decor is very modern, in both the lobby and rooms: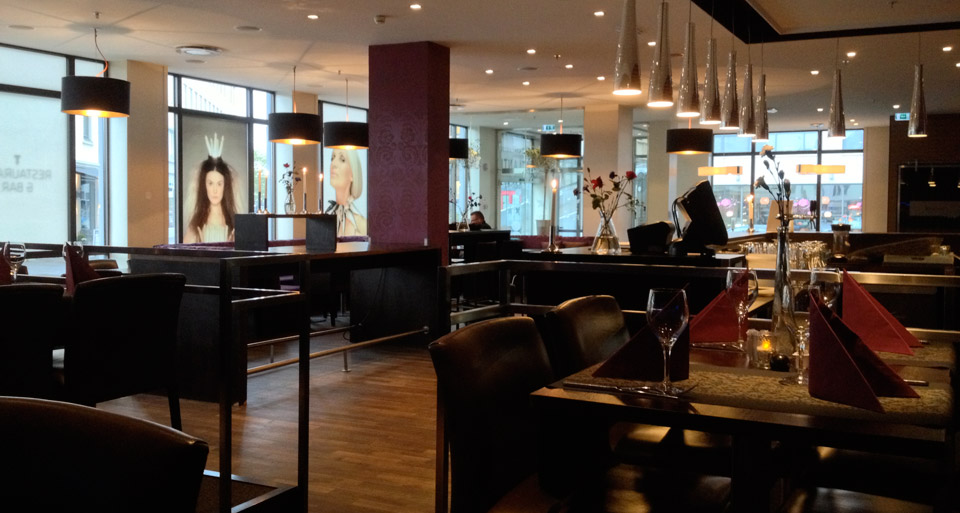 The Room
A gorgeous dark wooden floor, a sofa, easy chair, desk, coffee table, large double bed, a Nespresso machine, and a balcony with a first-class view of the town. Lovely! For those without the facilities in their room, free tea and coffee is available in the conference area on the first floor. The bathroom is a good size for a Norwegian hotel, with a powerful shower and decent toiletries.
The selection of channels on the TV is limited but I never watch much in hotels so this was no real issue. Overall I felt very comfortable in the hotel room, both relaxing in the evening and working in the mornings. Best of all, the cleaning staff respected the "Do Not Disturb" sign while I worked on Wednesday morning – it's amazing how many times this gets ignored elsewhere!
Breakfast and Dinner
Both are served in the lobby/bar area. Breakfast is the typical Norwegian style of cereals, fresh bread, cold cuts, and a couple of hot options. I was impressed with the variety of cereals on offer, which enabled me to make my own hangover-curing muesli the morning after the InnoTown party 🙂
If you fancy eating in the restaurant there's a tempting "High Five" offer each day from Tuesday to Saturday. It being Tuesday, the daily offer was a 3-course meal for 249kr. A decent deal for Norway. The menu consisted of tomato soup, an enormous chicken burger, and lemon sorbet for dessert. It was delicious, but perhaps a little too much food for a Tuesday night!
Other offers try to tempt in the locals, such as a family deal on Wednesdays where children eat for free, and a ladies night on Thursdays.
Other facilities
Free wifi is provided by The Cloud, a service you need to sign up for using a new code each day provided by reception. The hotel has a partnership with a local training centre, giving you free use by showing your room key. I went along on Wednesday evening and found a decent amount of cardiovascular and strength training equipment. It's about a 15-minute walk from the hotel, but if you're going to use a gym I guess this shouldn't be a problem!
The staff were excellent, particularly the reception staff who were helpful and professional for my entire stay.
Check rates and availability at the First Hotel Atlantica with Booking.com
—
Disclosure: My stay was courtesy of the First Hotel Atlantica. However, all reviews on Life in Norway are independently written and free of any influence from the hotel itself.
Plan Your Trip
Norway Traveller Club members get first look at the latest blog posts, travel tips and advice, plus exclusive access to discounts and special offers.
It's free! Simply enter your email: