As Norway's second biggest city and gateway to the fjords, Bergen is understandably high up on most visitors must do list. But the city is far more than just a good place to stay on your way to the fjords. It oozes history around every corner and packs in some of the country's best restaurants and attractions.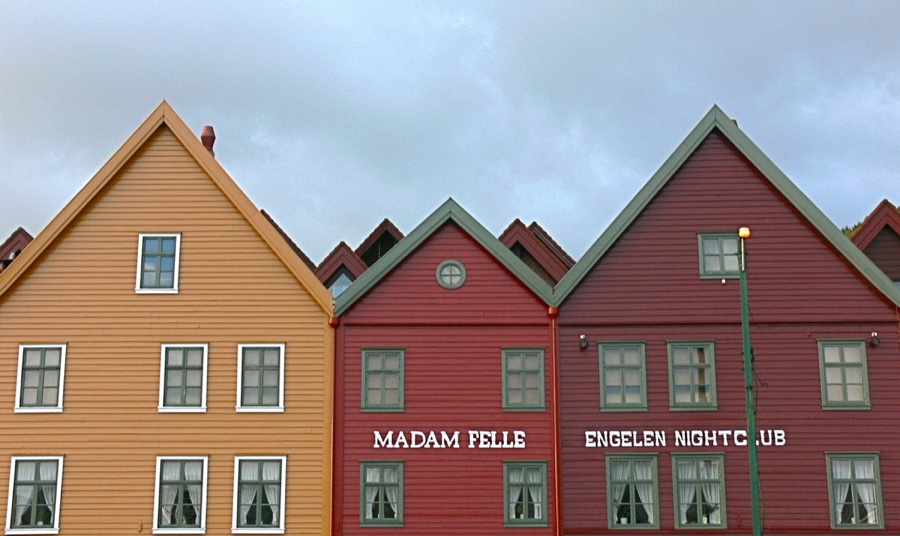 The city's ageing airport is undergoing a much-needed revamp to include a brand new terminal, hotel and light rail link to the city.
What to do
Bergen is a great base for exploring the very best of the Fjord Norway region, but you'll miss out on so much if you don't devote at least a day to the city itself. If you are able to, consider arriving by the Bergen line railway, frequently voted as one of the best train journeys in the world.
The city is full of photo opportunities, perhaps the most well-known being the UNESCO-listed Bryggen. The old wooden buildings are a homage to Bergen's Hanseatic League days when it was one of the most important trading posts in Europe. Nowadays, they are home to shops, boutiques, cafes, and restaurant, but there are still a must-see while you're in the city. Be sure to peek down the side alleys between the houses for a glimpse at what life would have been like a few hundred years ago.
Another must-do is the funicular railway to the top of Mount Fløyen, one of the seven peaks that surround Bergen. After you've taken the obligatory photos from the lookout point, you can choose to return to the city using the funicular, on foot, or explore the hiking paths that criss-cross their way though the forest.
Bergen is home to many festivals and events throughout the year. Read all about the major events in Bergen.
Where to stay
Every type of accommodation is available in Bergen, from luxury hotels to campsites and hostels. It's worthwhile considering a hotel within walking distance of the city centre though as the city's notorious wet weather can strike without much warning.
The quality of hotels varies wildly, so check out our suggestions for the best hotels in Bergen.
Getting around
Bergen's bus network is well developed and easy to use. There is also a light rail line. Both are operated by Skyss and use the same ticketing system. For the central zone, a single ticket bought in advance costs 36kr with a 7-day card available for 240kr.
Passengers are allowed to carry luggage on board the bus and light rail up to a maximum weight of 20kg. Prams, wheelchairs and skis can be brought on board at no charge, as long as there is sufficient space available.
Where to eat
Bergen is home to some of the country's best restaurants but be prepared to book in advance. It can be difficult to find cheaper options around Bryggen but alternatives do exist. We are big fans of Bergen's Zupperia restaurants. They offer large hearty soups (and other dishes) at reasonable prices, although service can be slow. You can pick up fresh shrimps from the Fish Market just a few steps away from Bryggen.
For lunch or snacks, it's best to avoid the kiosks (Narvesen, 7Eleven, Mix, etc) that offer all things sweet and salty at inflated prices, although the coffee is often good value. Some supermarket chains offer salad bars for a lighter lunch at a reasonable price.
Shopping in Bergen
For handcrafted souvenirs including silver jewellery and Norwegian woollen sweaters, head to Bryggen, where you'll also find the all-year Christmas shop. You'll find high-street names on the streets between Bryggen and the city lake (Lille Lungegårdsvannet), or head to Marken near the railway station for smaller shops and cafes. Lagunen Storsenter near the airport is the city's biggest shopping centre.
It's important to remember that all shops except small kiosks and tacky souvenir shops are closed on Sundays!
—
Photo credit: Nicholas Ng
Plan Your Trip
Norway Traveller Club members get first look at the latest blog posts, travel tips and advice, plus exclusive access to discounts and special offers.
It's free! Simply enter your email: