Last week I welcomed my brother to Norway for the first time. As well as taking in Trondheim's Pstereo festival, I took him on one of my tried and tested Norwegian road trip routes to the Atlantic Road and Trollstigen. We stayed on a campsite near a small town called Åndalsnes. It was the second time I'd stayed in the area, and it struck me what a terrific location it is for road-trippers.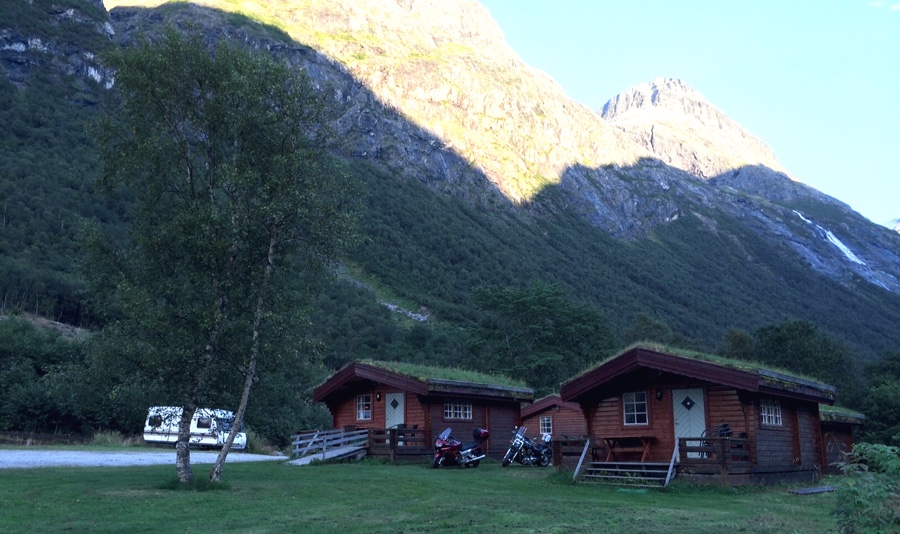 I hope I won't offend locals here, but there is nothing particularly remarkable about the town itself. It's a small place with just a couple of thousand inhabitants, with the same smattering of small shops you'd get in any small Norwegian town. It's linked to the national train network thanks to the Raumabanen that runs from Åndalsnes to Dombås. This means it's relatively easy and scenic – albeit time-consuming – to travel to Åndalsnes by train from both Oslo and Trondheim by changing trains at Dombås.
What really makes the town shine is its stunning natural location. Set where the Rauma river meets the peaceful Romsdalsfjord, Åndalsnes is surrounded by some of Norway's best-known mountains.
There's a couple of hotels in the town, but look to the campsites for the best value experience. Like most modern Norwegian campsites, you have a choice of comfort levels, from high-spec cabins with multiple bedrooms, kitchenettes and bathrooms, all the way down to simply pitching a tent.
Search and book accommodation in Åndalsnes
We went for the cabins, albeit slighter lower-spec ones! If you're travelling in a group, the large cabins offer extremely good value. If you're travelling on a budget or don't mind the use of a shared toilet and shower block, the cheaper cabins are absolutely fine and most will still have a hob to heat up those pølser after a long day of hiking!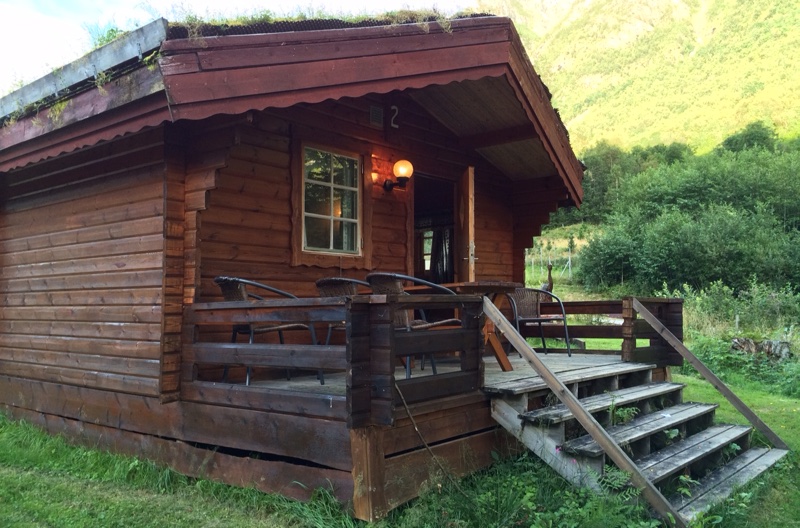 So, why stay in Åndalsnes?
Trollstigen
One of Norway's most famous roads is just a 20-minute drive from the town, less from most of the campsites. Driving up the eleven hairpin bends of Trollstigen (The Troll's Path) is an awesome experience, but it's even better as a passenger. When I visited with my Dad, we alternated the driving so we both had the opportunity to stare down at the valley below. Please note: this road is only open during the summer months!
At the top of the mountain is a modern visitors centre and several lookouts for that must-have photo op: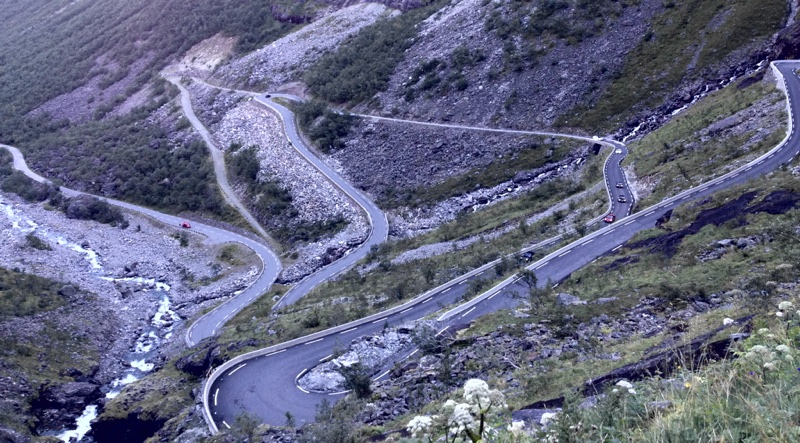 Trollstigen forms part of Route 63 from Åndalsnes to Geiranger, and if you are taking this lovely summer tour you're in for some terrific scenery along the way.
Geiranger
Arguably Norway's most famous fjord, the Geirangerfjord is around a two-hour drive from Åndalsnes, but you'll want to allow more time to make several stops along the way. The village itself is a bit of a tourist trap, but the hairpin bends on the approach including the famous Ørnesvingen are another great driving experience and photo opportunity.
Trollveggen
Just 10 minutes from Åndalsnes is Trollveggen (The Troll's Wall), the tallest vertical rock face in Europe. BASE jumping is a risky yet popular activity here even though the authorities impose heavy fines on those caught. For most people though, just a glimpse of the intimidating mountain is enough to justify a stop-off here.
The modern visitors centre includes a cafe with staircase-style seating that overlooks the wall: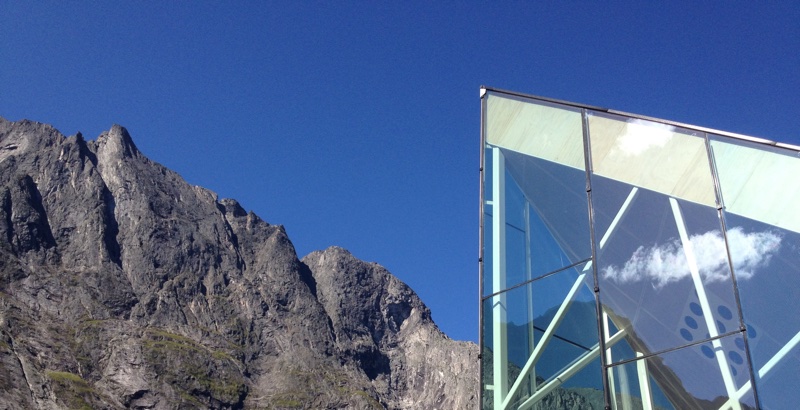 Ålesund
One of the most charming towns in all of Norway, Ålesund can be reached by car in under two hours from Åndalsnes. If you prefer a more urban location for your stay in the Norwegian fjords, then Ålesund could be just what you're looking for, but for those of you staying in Åndalsnes it makes a terrific day trip. Climbing the 400+ steps up the Askla mountain to the Fjellstua lookout is a must, while the Jugendstilsenteret tells the story of the infamous fire and how the city was rebuilt in the Art Nouveau style.
The Atlantic Road
A slighter longer trip this one, but the famous Atlantic Road can still be reached from Åndalsnes in around two and a half hours. The 8km stretch of road links many islands and skerries with a series of impressive bridges. Approaching the road from the Åndalsnes direction also means you miss the hefty toll on the tunnel to/from Kristiansund.
Romsdalseggen Ridge
If you're into walking, one of the most famous hikes in Norway starts from Åndalsnes. The Romsdalseggen Ridge hike takes between six and nine hours. There are three different routes with varying levels of difficulty, but all require a good level of fitness and a basic understanding of mountain hiking and one even involves a small amount of climbing. I'm told the 360-degree panoramas of the Romsdal valley are simply breathtaking.
Maybe one day!
If I've not yet convinced you to base yourself near Åndalsnes on your next Norwegian road trip, here's one last thing that might clinch it. Last Tuesday we enjoyed a delicious Chinese meal at the China House restaurant in the town. Despite the run-down appearance and average reviews on TripAdvisor, it was hands-down the best Chinese meal I've had in my 4+ years in Norway. A very pleasant and unexpected surprise!
Finally, if you stay in Åndalsnes, look out for the trolls.
Because they'll be looking out for you…